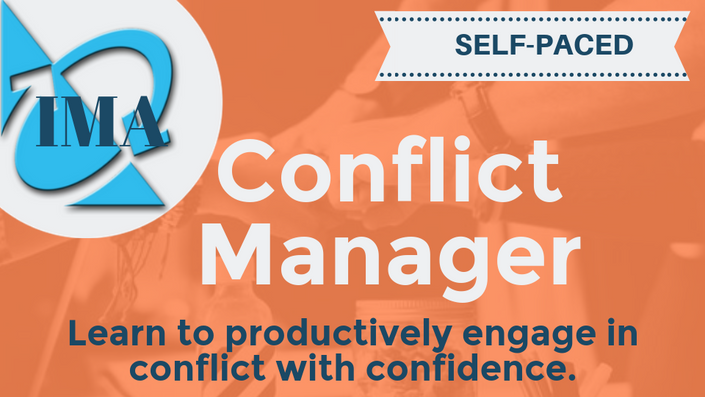 IMA Conflict Manager
Online content with foundational lessons and strategies designed to help you productively engage in conflict with confidence.
Enroll Now
Learn key skills and strategies used by dispute resolution experts and earn a Certificate of Completion through self-paced demonstrations, workbook, reading materials and lessons.
What you'll learn:
Underlying causes of conflict
Negotiation techniques used by conflict resolution professionals
Strategies for engaging with disrespectful people
Evaluation, in a private setting, of your conflict preparedness
How to navigate uncomfortable conversations
This course also serves as the foundational prerequisite for our IMA New Mediator Course, the introductory-level course for new mediators. If you are in our mediation training program, you'll notice that this course is bundled with the more intensive, in-person portion of your training.
Our courses are designed to maximize your time and your learning. We combine videos, reading material, instruments, homework and quizzes to help you advance your own learning.
Participants receive Certificate upon successful completion of each course.
Who this course is for:
Supervisors who want effective conflict management strategies for team success.
Employees who want to upgrade their resume with negotiation skills.
Potential mediators who are on the fence about committing to a 40-hour course.
Trained mediators who want a refresher course.
Conflict-avoiders who want to discretely evaluate their conflict engagement skills.
Anyone who wants winning strategies for engaging productively in conflicts.
Who is this course not for:
Mediators-to-be who need a 40-hour introductory mediation course now. This will satisfy have the requirement and serves as the primer, but only the IMA New Mediator Course satisfies the full 40 hour industry standard.
People who want to win at all costs.
Individuals afraid to know what is holding them back from engaging in conflict.
Anyone who wishes to remain forever stuck in that one persistent conflict.
What happens when you buy?
You get a confirmation email message with information about how to log in.
You'll have access to course materials and videos.
Receive a Certificate of Completion once you have passed all quizzes.
This course may meet continuing professional education requirements for attorneys, educators, accountants and other professions. Check with the appropriate local jurisdiction or governing agency.
Your Instructor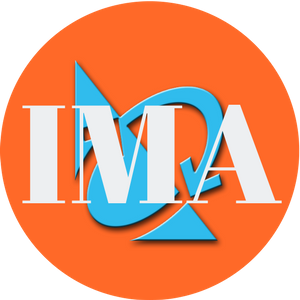 Course Curriculum
Welcome
Available in days
days after you enroll
Let's start with you
Available in days
days after you enroll
Introduction to conflict management
Available in days
days after you enroll
Frequently Asked Questions
When does the course start and finish?
The virtual doors to this course will open on or before January 8, 2018. Anyone who enrolls after that date will have full access. It is self-paced, so you finish it according to your schedule! If you are continuing with the IMA New Mediator course, you should aim to finish this one before that one begins.
How long do I have access to the course?
After enrolling, you have unlimited access to this online course, across any and all devices you own, until you receive your Certificate of Completion.
Will I be certified after this course?
Upon successful completion of the course, you will receive a Certificate of Completion. This does not necessarily mean that you are "certified" because, in most parts of the world, there is no governing body that certifies in this field (yet). The certificate may qualify for continuing education credits. Check with local jurisdictions to find out if it satisfies specific requirements you may need for a particular profession or career. The foundations and lessons in this program are aimed at bolstering your knowledge, skills and career.
Who should take this class?
If you feel anxious or stressed around conflicts, this course is for you. It is ideal for anyone who wants to learn how to engage in conflicts with less fear, whether in the workplace, within their professions, in communities, in the classroom, within organizations, as volunteers or as parents.
What if I am unhappy with the course?
We would never want you to be unhappy! We guarantee our products. If you are unsatisfied with your purchase, contact us in the first 14 days and we will give you a full refund.
What kind of education or experience do I need before taking this course?
None! There are no prerequisites. People from all backgrounds take conflict management training. The beautiful thing is that it does not require you to have special experiences or degrees. In fact, you'll hear some people with advanced degrees say they struggle to "unlearn" many of the things they've been taught before taking this training.
What can I do with conflict manager training?
This course is designed to boost your skills as a conflict manager, whether you're just starting your career or you want to advance in your profession. People report to us that the skills they learn as conflict managers have been invaluable. You will learn how to better manage conflicts between people. It can improve the way you supervise, manage, volunteer, parent or participate in your community!
Will this course qualify me to be a mediator?
No. The industry standard to qualify as a mediator is at least 40 hours of training, which includes in-person simulations, coaching and practice. Since the IMA Conflict Manager course is only an online course, you would need to add the in-person training in order to receive a Certificate of Completion as a mediator.