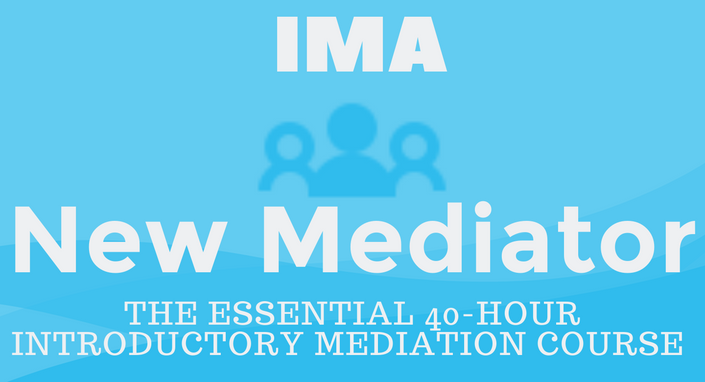 IMA New Mediator - Online 2020
The essential introductory mediation course with 40+ hours of blended learning, live instruction and expert coaching.
Enroll in Course
This is the essential introductory mediation course. It is a cutting-edge certificate program for new mediators to build skills and confidence.
Our blended learning approach includes live coaching, community support, online self-paced learning, hands-on practice and dynamic classroom instruction.
This course includes the following components:
FOUNDATIONAL CONTENT:

WHEN: Available immediately upon registration
Self-paced and interactive content
Assessments, worksheets and video library
Supportive online community of new and seasoned mediators
Guidance to develop your unique opening statement and mediator style
Bonus content and suggested reading
COACHED MEDIATION SIMULATIONS

WHEN: Available immediately upon registration
Virtual mediation simulations based on actual cases
Observe, practice and build mediation skills
Live sessions to schedule at your convenience
State-of-the-art online mediation training
Coaching, feedback and support included
This course is perfect for you if:
You are frustrated by disagreements that don't make sense or escalate for seemingly no reason at all
You have experienced conflicts that get in the way of your team's success
You are considering launching your own mediation practice
You want to enhance your skills in negotiation, communication, listening and/or managing people
You long for mediation skills, but do not have the resources or time for a standard 5-day classroom training
You took mediation training ages ago and want to refresh your skills
You want to earn a 40-hour mediator Certificate of Completion
The IMA New Mediator Course is the introductory-level course for anyone who wants to learn how to mediate. The curriculum in this course exceeds the 40-hour requirements of most court-annexed and community mediation programs. Our courses are designed to maximize your time and learning.
We combine videos of real and simulated mediations, homework and live experiential instruction. Participants receive certificate upon successful completion of each course.
Whether you plan to use mediation skills formally or informally, this course will benefit you.
The first mediation course Kate took was dreadful.
She explains, "We sat through lectures that explained what mediation was. (Like everyone else, I slept through those.) Coaches constantly told us what we were doing wrong. We were handed scripts to memorize."
In other words, after experiencing chaotic, uninspiring, overwhelming and disempowering training, Kate Otting understood why the field was stagnant. Most mediation courses require 5 full days of classroom teaching. They leave little room for personal development or unique approaches to mediation.
Kate has revolutionized mediation training. While many mediator-trainers have kept up with the latest research and terminology, most courses are not accessible to busy, working professionals. With over 25 years in the field, Kate learned to take out many of the elements of the agenda that can be done ahead of time, at your own convenience, to help you get some of the foundational materials and instruction before you engage in the hands-on learning. You will then enter the practice of mediation, prepared with a solid understanding of mediation principles, skills and applications.
This course offers you everything the old-fashioned classroom-style 40-hour mediation course offers, plus plenty of bonus materials for you to explore and advance your skills.
This course may meet CLE requirements for attorneys, as well as continuing credits for other professions.
Course Curriculum
Course outline - take a peek
Available in days
days after you enroll
Courses Included with Purchase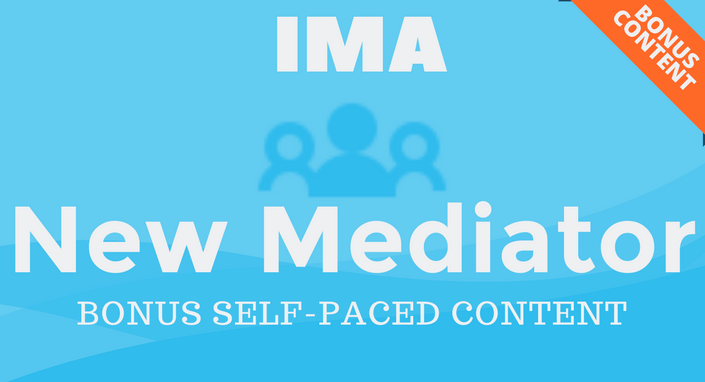 IMA New Mediator - Online - BONUS CONTENT
The essential introductory mediation course with 40+ hours of blended learning, hands-on practice and expert coaching.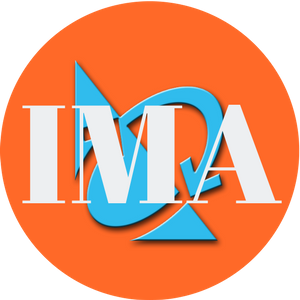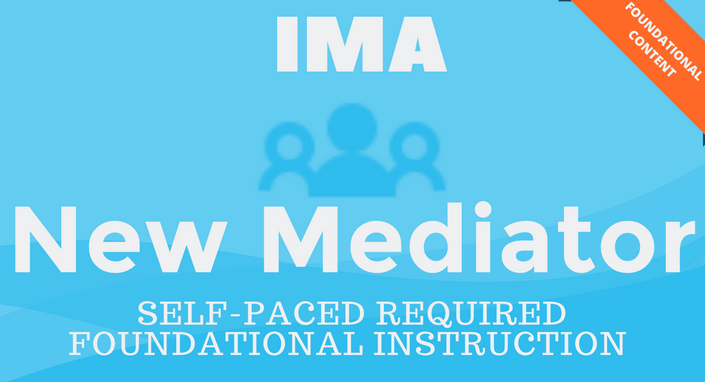 IMA New Mediator - Online
The essential introductory mediation course with 40+ hours of blended learning, hands-on practice and expert coaching.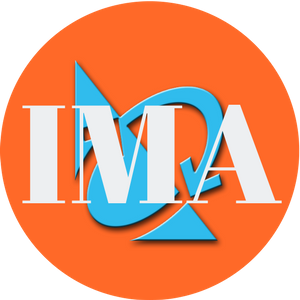 $678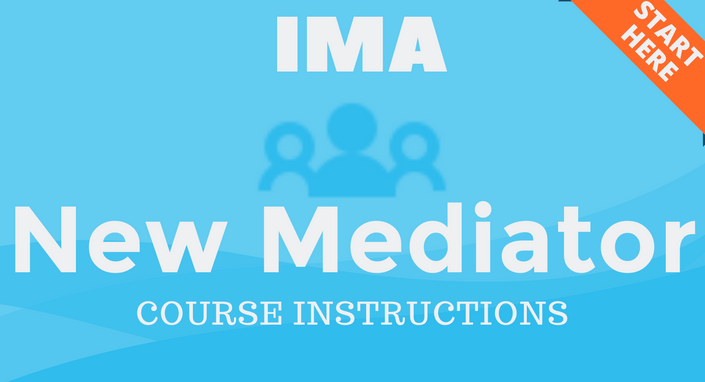 IMA New Mediator Online Course Instructions: START HERE
Start your IMA New Mediator journey here.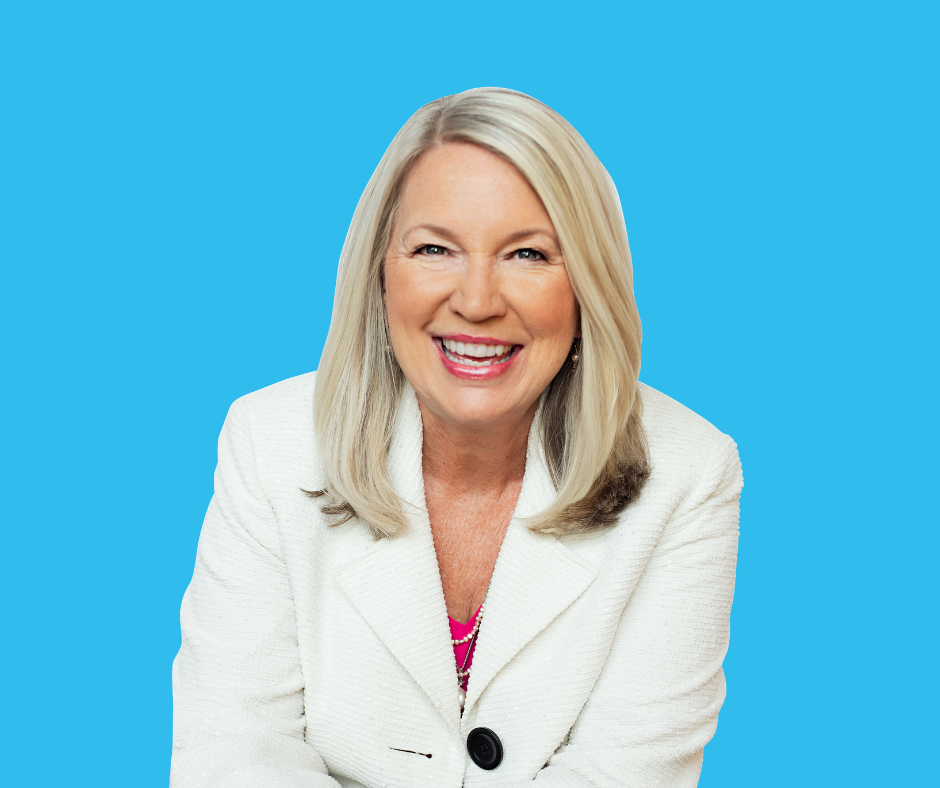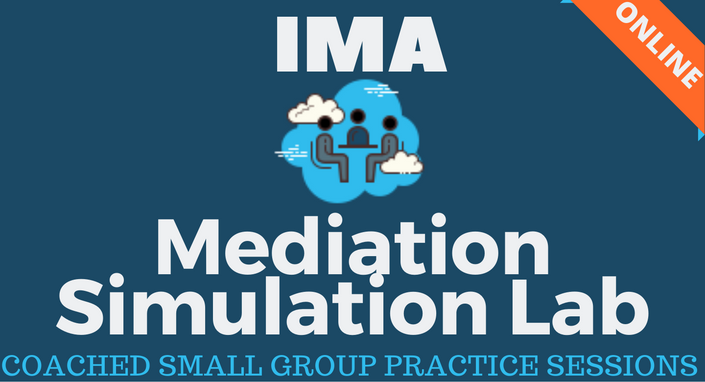 IMA Mediation Simulation Lab
Advance your mediation skills with coaching, feedback and support in 1-hour small group sessions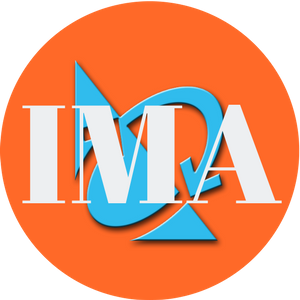 $619
Original Price: $1,297
Frequently Asked Questions
When does the course start and finish?
You gain immediate access to the course upon enrollment. Once enrolled, you will have full access to work on it at your own pace. Keep in mind that you will need to schedule the required 12 mediation simulations to fit your schedule. Information about how to sign up for the mediation simulations is explained in the course. Upon completion of the required course content, including the simulations, you will take the final assessment. Upon successful completion of the assessment -- which should be simple if you have completed the assignments -- you will receive your Certificate of Completion.
How long do I have to complete the course?
After enrolling, you will have access to the online portion of the course, including access to the required 12 simulations, for up to six months, or until you receive your Certificate of Completion.
What can I do with a Certificate of Completion in mediation?
A certificate may qualify you to mediate in most courts and it often satisfies continuing education requirements for professionals. In most places, there is no process to officially "certify" mediators. Participants should check with local jurisdictions to find out what you may need in order to be an official mediator wherever you may wish to mediate. More than likely, this course will meet or exceed the requirements. We can guarantee you this: upon successful completion of the course, you will receive a Certificate of Completion.
Who should take this class?
Anyone who wants to learn how to mediate conflicts, whether in the workplace, within their professions, in communities, in the classroom, within organizations, as volunteers or as parents. Being a third party interventionist requires not only the foundational training included in the online portion of this program, but also the hands-on guidance, practice and support provided in this IMA New Mediator Course.
What if I am unhappy with the course?
We would never want you to be unhappy! If you are unsatisfied, contact us in the first 30 days of your purchase or first payment (if on payment plan) and we will give you a full refund. We cannot refund recipients of scholarships of any amount. If you find you are unable to the course in the allotted time, please contact us, as we may be able to enroll you in a subsequent session, for a nominal transfer fee.
What kind of education or training do I need before taking this course?
None! There are no prerequisites. People from all backgrounds take mediation training. The beautiful thing is that it does not require you to have special training or degrees. In fact, you'll hear some people with advanced degrees say they struggle to "unlearn" many of the things they've been taught before taking mediation training.
What can I do with mediation training?
You could launch a career as a mediator or use this course to boost your skills in your current career. You will learn how to better manage conflicts between people. It can improve the way you supervise, manage, volunteer, parent or participate in your community!
Does this course qualify for continuing education (CLE, CEU, CPE, etc) credits?
This course may meet continuing education requirements for attorneys, mental health professionals, teachers, accountants, as well as continuing credits for other professions. In most cases, our students have found the Certificate of Completion satisfies most continuing or professional education requirements. It is incumbent upon participants to check with the appropriate governing body, agency or jurisdiction to determine whether it qualifies.
How often do you offer this course?
How often we offer the course depends on the number of people on our waiting list.
What if I can't complete some portions of the course?
Completion of the course is mandatory for receiving a Certificate of Completion. Most mediation courses require participants to clear five full days for instruction. We have created a platform that is convenient for you to receive top-quality mediation training. It's important that you clear your calendar and ensure you have the time, equipment and working internet to complete the course.
What equipment is required?
Participants must have the following equipment: - a laptop or tablet with a working webcam, microphone and speaker/headphones - stable internet/wifi connection If you do not have the proper equipment, contact
[email protected]
to see if we will be in your area for a classroom-based course.
Do you offer a classroom version of the IMA New Mediator course?
Occasionally, based on demand, we will offer an in-person 40-hour classroom version of the IMA New Mediator Course. On occasion our previous graduates of the IMA New Mediator Course will partake in the live version as a refresher. If you are interested in a future classroom version of this course, please let us know.